Grow Your Business With a Book: 75 Ways to Use Your Book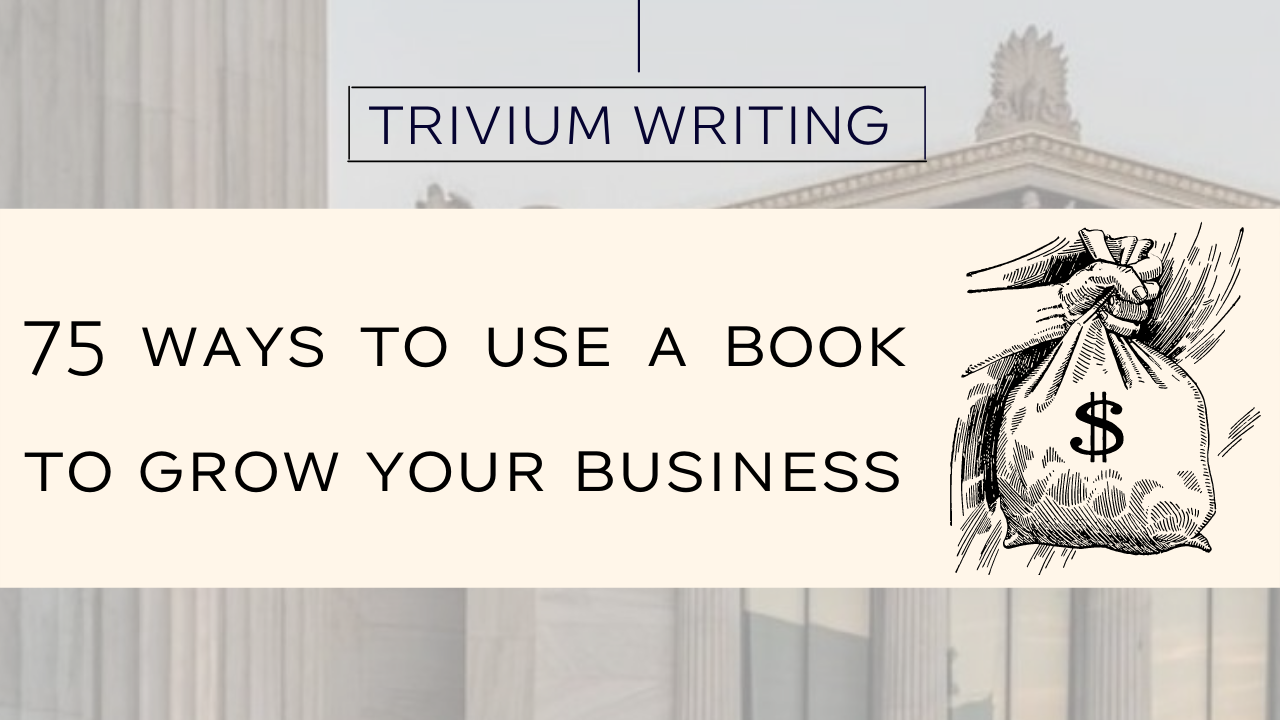 If you have a business or are thinking of starting one, you may have thought of writing a book. Today more than ever before, people read nonfiction books and look up to their authors as trusted authorities. However, you may not know what to do with the book once it's written. This post is the ultimate guide on how to use a book to grow your business. We'll cover 75 ways you can use the book to grow your business.
A word of warning before we begin: This guide is designed to show the endless possibilities when it comes to growing a business with a book. The number of ideas presented in this guide may feel overwhelming, but remember that you do not need to use them all—at least not once. The best strategy is the one that feels authentic to you and the one you can execute most easily.
One well-executed strategy is always better than 35 poorly executed ones.
How to Grow Your Business With a Book: Before the Book Is Written
1. Use the book to Get a Tax Write-Off
Before you make any decision about writing a book, you should know that a book is an investment, not an expense. Whether you're incorporated or self-employed, you can write off all your book expenditures.
Your book expenditures can be categorized as marketing expenses since a book is a marketing tool. As a result, it can be a great option to use pre-tax dollars to invest in the production of a book that will grow your business. What's more, unlike most marketing expenses, the book will last you decades.
2. Use the book to gather market intelligence
As a savvy entrepreneur or business owner, you know how important market intelligence is. You know staying ahead of the curve is critical. That said, it can be hard to keep up with all the changes and taking the time to do the necessary research to stay current with our industry.
Why not use the book as an opportunity to gather market intelligence? As you write the book, you'll need to research some key areas in your industry. You'll also need to talk to people. If your book is well-positioned in the market, it's only natural you'll be led toward useful market intelligence.
3. Use the book to do interviews
Relationships are everything in business. We need true, deep connections with others to realize our full potential as entrepreneurs and business owners. What better way to create relationships than to interview people to gather data, facts, stories, and insights? People love to help and to be heard.
You can interview people who would be good prospects for your products and services. You can also interview key players in your industry. Don't hesitate to invite high-profile individuals; they are often happy to carve out 30 minutes of their time.
If you want to maximize your interviews, consider uploading them online as podcast episodes.
4. Use the Book to Stay Ahead of the Curve
Do you foresee changes in your industry? You have the opportunity to be a thought leader and to write about these foreseeable changes and shape your field. Sure, you could be wrong about these changes. But writing is leadership, and leaders are greatly rewarded for their efforts and boldness.
On top of positioning you as a leader, writing a book to stay ahead of the curve helps you further your understanding of the field. While you may have good ideas already, writing the book will force you to challenge and verify your assumptions. You'll also need to become even more persuasive.
5. Use the Book to Change Fields
Perhaps you're tired of your industry and you want to jump boats. But you don't know where to start or you're afraid you don't have credibility. The good news is that a book can help you with this conundrum. With a book, you can easily jump from one industry to another.
The trick to use a book to change fields is to connect your past experiences and knowledge with your desired field. The best content always comes from connections between different fields, so this is your time to shine. Bring your expertise to new industry, and you'll gain the credibility you need.
6. Use the Book to Fill a Need
Any book should fill a need of some sort, but there are needs that require more immediate attention and can make you a lot of money. For example, I wrote The Architecture of Grammar at the request of a filipino college who needed better writing resources for its communication courses.
By analyzing which community (target audience) needs your expertise the most, you can fill a need by writing a book and make a lot of money at the same time. You should also consider who has the money and the incentives to purchase your book. Sometimes, they're not the same people.
Consider all the problems you can solve and test them out by asking organizations and institutions if they would buy a large order of such a book. By doing so, you may realize the problem you can solve isn't the one you thought, which will then put you on the fast track to success.
7. Use the Book to Create Trademarks You Can License
According to Mark Getty, intellectual property is the twenty-first century's oil. The richest men alive have amassed their fortunes thanks to intellectual property. While a book is a form of intellectual property (it's copyrighted), the book can birth other forms of intellectual property.
If you craft your book the right way, you'll have a solid concept (the title and the branding). You can trademark the concept and use it for different assets, such as workshops, courses, and methodologies. Intellectual property assets such as trademarks are excellent business tools.
8. Use the book to Create Affiliate Marketing Campaigns.
You can only go so far on your own. As marketing expert Russel Brunson suggests in his book Expert Secrets, you should have an affiliate army that has your back. Affiliate campaigns are marketing campaigns made using other people's audiences to reach a wider pool of potential buyers/clients.
To create affiliate campaigns, you need to either pay your way or exchange value. For example, you can pay another entrepreneur or business to get featured on their email list. If you have a large email list yourself, you can offer your affiliate to run a campaign for them as well.
Remember that your affiliates should be entrepreneurs or businesses that share your audience and whose values align with yours. Again, in his book Expert Secrets, Russel Brunson suggest creating a Dream 100 Strategy, which consists of listing all the different places where your audience might hang out.
9. Use the Book to Publish one Timeless, Fundamental Piece of Knowledge
Do you want to be a thought leader? Writing a book is your chance to become one. Books offer the depth and the breadth of true leaders. Because they force you to create unity among your ideas, you have the opportunity to publish a piece of knowledge that will last for generations.
10. Use the book to do a launch and generate attention
11. Use the book to leave to your grandchildren
12. Use books to create many events every year
13. Use the book to create relationships with experts
14. Use the book to create a network of people
15. Use the book to offer seminars at schools and universities
16. Use the book to create a signature talk
17. Use the book to create a series of books
18. Use the book to create community projects
19. Use the book to start a media company
20. Use the book to show thought leadership
21. Use the book as a resource for your programs
22. Use the book to create a new field or discipline and innovate
How to Grow Your Business With a Book: While The Book Is Being Written
23. Use the book as the foundation for a blog, which makes you searchable
24. Use the book as a call to action for your podcast
25. Use the book as a call to action for your YouTube Channel
26. Use the book as a call to action for your website
27. Use the book to create an email list to sell other services
28. Use the book to create a social media following
29. Use the book to run ads for free
How to Grow Your Business With a Book: After the Book is Written
30. Use your book as a lead generation tool
Books are great lead generation tools because they demonstrate authority and credibility. Having a real, published book shows that you are serious about business and that you know what your are talking about.
You can sell or give away your book on a landing page where people must enter their contact information. This way, you can sign people to your automated email sequence and sell them other products or services.
If you're not sure which type of book to write and how long it should be, check our blog titled How Long a Book Should Be. You will find out which type of book is best based on your goals.
31. Use the book as a bonus for a current product/offer
The alternative to using the book as a lead generation tool is to use it as a bonus for a current product or offer. Stacking value is a great way to increase sales conversions. The more value prospects see, the more likely they are to buy.
If you use the book as a bonus for a current product or offer, make sure the book is high-quality and provides value customers can't find elsewhere. Otherwise, the book will be a letdown and your customers may be disappointed.
When executed well, this strategy is powerful. But if poorly executed, it can hurt your relationship with clients.
32. Use the book as a gift to your clients and partners
Instead of offering the book as a bonus for an existing product or offer, you can gift it to your clients and customers after they have purchased your product or service. Instead of increasing conversions, you are improving the customer experience.
Anything that goes
33. Use the book to accompany your service
34. Use the book to get yourself in the door
35. Sell a bulk order to an organization or institution
36. Offer free copies of the book to an organization or institution
37. Create a strategic partnership with stores/institutions that have your audience
38. Create relationships with other authors in your field
39. Donate the book to organizations/institutions that need your knowledge
40. Create a workshop based on the book and sell it to book buyers
41. Create a movement based on the book with a group
42. Create a website dedicated to your book with resources
43. Use the book as a down-sell for people who aren't a good fit
44. Pitch your book to be produced as a movie
45. Use the book to create change (politicians, celebrities, etc.)
46. Use the book to create a methodology that you can then license
47. Leave your book on the table where you're speaking
48. Use the book to create scarcity
49. Use the book to be found on Amazon (through Amazon ads)
50. Use the book to appear in global catalogues
51. Use the book to land speaking gigs
52. Use the book to raise your prices
53. Use the book to shift the public debate on a topic
55. Use the book to raise awareness about your mission
56. Use the book to raise funds for a cause you love
57. Use the book to organize an event
58. Use the book to create a mastermind
59. Use the book to create a new coaching program
60. Use the book to create a new consulting offer
61. Use the book to sell an online course
62. Use the Book to Stack value in an offer
63. Use the book to create a brand or improve your brand
64. Sell the audiobook on Audible and make more money
65. Use the book to get invited on the radio
66. Use the book as a catalogue of all your knowledge [put a treasure chest at the end]
67. Use the book on your social media covers to show your
68. Use the book to connect with other authors (which makes your network better)
69. Use the book to break into a new industry [build credibility]
70. Use the book to convince people about something important to you
71. Use the book to extend your reach to other cultures (by having your book distributed globally and maybe even translated)
72. Use the book to start an e-commerce store
73. Use the book to start a book franchise
74. Use the book to join boards
75. Promote a fine for your service
Bonus: Use the book to travel (plan out a book tour)