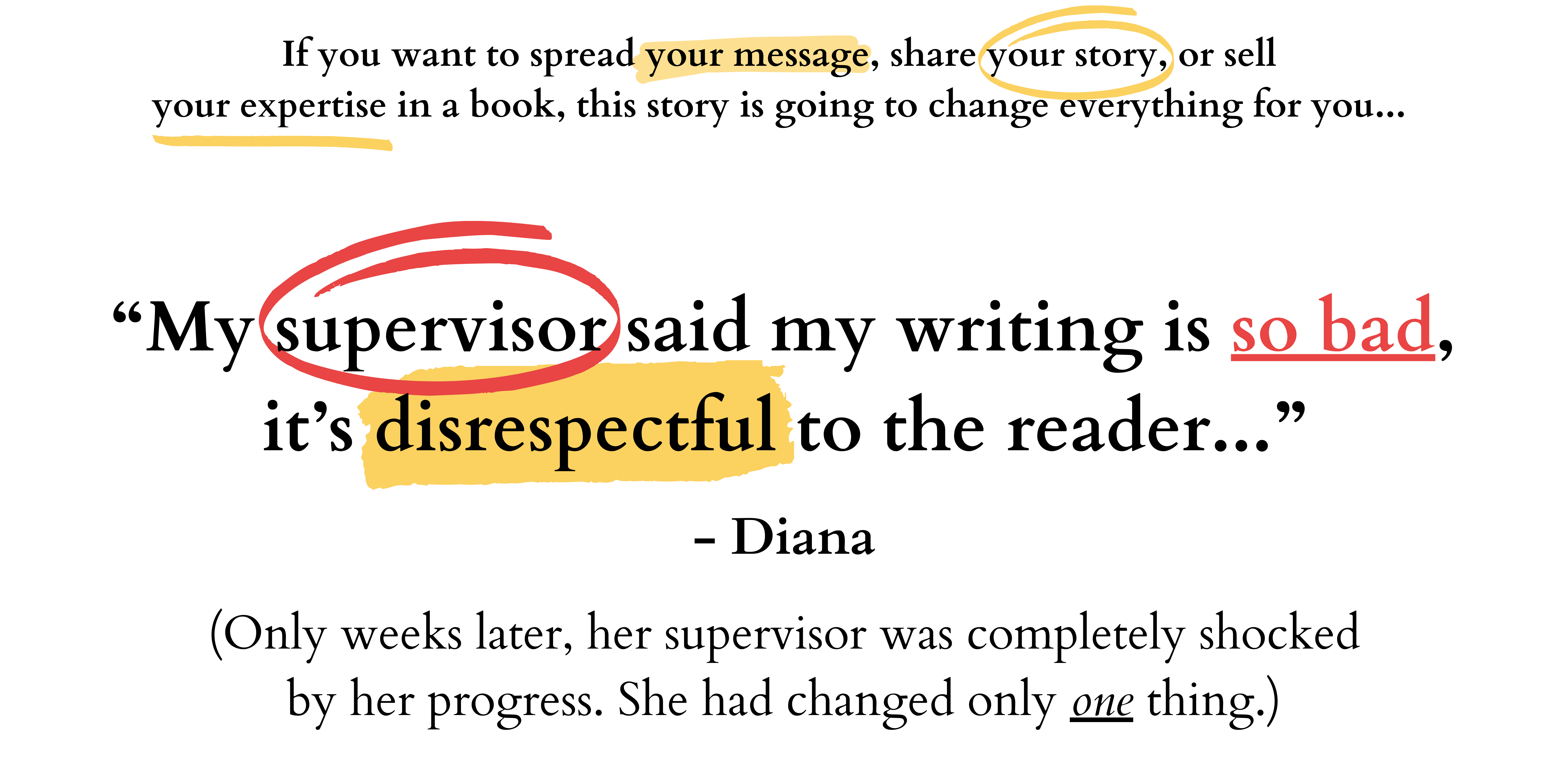 Ouch, I thought. That lady isn't playing around.
Diana had just walked into the 6th floor back office. I asked her, "what do you need help with?"
I worked as a university writing tutor, and helping with writing was routine.
That's when Diana said those shocking words.
You see, Diana had come to Canada to study computer science. English isn't her first language, and she's not a writer. But she needed to complete her thesis to graduate.
Needless to say, she was struggling. Plus, her professor expected her to know everything right off the bat.
We all have experienced something similar.
Maybe you're a coach, a consultant, a subject matter expert, an academic, or a professional...
Maybe you've thought of writing a book...
Maybe you've tried to do it and failed...
Or maybe you're stuck in the process...
Regardless—the reason you haven't completed your book yet is simple. We all have an inner critic telling us, "your writing is so bad, it's disrespectful to the reader."
And it's not okay because we have value to give to other people. We have something worth sharing with the world.
If you're reading this page, you already know what your gift is.
You just don't know how to get it out there in a book.
Trust me, I've been in that position.
My name is Léandre Larouche. Before I was a university writing tutor (now a successful writer/writing coach), I was just another soul struggling with writing.

I went through the whole roller coaster of writing problems.
💩 Handcuffed by the lack of inspiration...
💩 Thrown around by my lack of organization...
💩 Punched in the throat by writer's block...
💩 Harassed daily by the thought of having given up on my book after writing only 4,000 words.
I hadn't yet figured out the truth about writing...
But in university, two wonderful women took a chance on me. They gave me a job as a writing assistant, and I really grew into the job. There was one catalyst, though...
Diana—AKA, the student whose writing was "so bad it disrespects the reader."
I'm a quirky guy, and as they say in a Papa Roach song, "my weakness is that I care too much." So I gave Diana everything.
The writing center where I worked was a dusty back office, and we didn't have a whole lot of resources. We had a computer, we had some pens, and we had some sheets of paper.
So we did what we could.
Her Professor Couldn
't Believe It
It's funny how the tables do turn, isn't it?
A few weeks later, Diana came back with her thesis done. She said her professor couldn't believe it was being written by the same author. It was "too good to be true."
The prof was almost accusing Diana of plagiarism.
The professor was so impressed she asked to meet me, and I ended up doing some natural language processing work for her. We had some great conversations together…
In Germany, where that professor is from, the writing instruction is much better. But here… it's like we've given up on teaching that skill—one of the most important skills in the world.
But what is it that I taught Diana that was so effective?
How could a non-native English speaker with zero writing background wow her professor and finish her thesis in so little time?
The Dumb Truth About Writing
My God...
What Diana and I realized in the dusty back office is that writing is simple.
Stupid simple. It's no different from anything else you see. Maths… Science… Sports… Music… Etc.
There's only one reason you struggle with writing.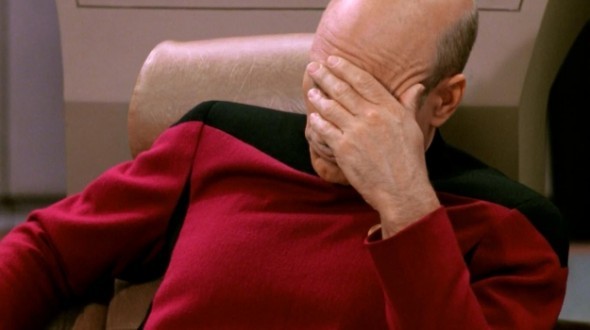 You weren't given the right framework.
You see, there are a lot of people who would like to learn how to play sports or musical instruments… yet they can't seem to.
Why is that?
It's because they don't have the proper instruction. They learn the wrong things in the right order, or they learn the right things in the wrong order...
So they fail, and it's not their fault.
And the same thing is true of writing.
There are very few things you need to know about writing…
You just need to know them and implement them in the right sequence! That's what happened to Diana...
How Diana's
Writing Came to Life
I wasn't an expert writer back then, but I knew some things most people don't. You see, like Diana, I learned English as a second language. So writing came to me the hard way…
English is a really stupid language sometimes.
While I'm no artist, I drew some boxes and connected them for Diana to see how writing works.
As some people say, I "connected the dots." I showed her how we
turn ideas into compelling chapters.

organize chapters and paragraphs logically.

catalyze ideas into sentences that sound good and make sense.
What happened next is history.
There's a reason I told you Diana's story…
It's the perfect illustration of why you're still stuck with your writing.
Her professor, her critic, kept telling her she was doing it wrong. But she wasn't in any way, shape, or form helping her improve…
The only thing she did was send Diana to the writing center...
Which turned out to work—but that's also because I went out of my way.
The same happens with all of us…
Our inner critic keeps telling us we can't write to save our life… It tells us we shouldn't bother or we should give up...
But what is it doing to help us?
Nothing…
And that's the problem, which we solved!
The "Diana Miracle" Wasn't a Fluke
This is where Diana's writing story ends for us. She now lives in Toronto with her husband and children. We're still in touch, and she sometimes refers people to me...
And that's because my writing story doesn't end here… in fact, it's only getting started.
After seeing the success I had with Diana, I doubled down on my methodology…
I was eager to see if it worked for everybody…
So I tried it on a hundred more students at the writing center…
I tried it on adult learners taking their high school diploma equivalencies…
I tried it on academics and professors…
I tried it on aspiring authors…
The results were unequivocal… The stuff works!
Not only that — it works in more than one language.
It works in English, French, Spanish, and possibly more!
"Simplicity is the ultimate sophistication," Leonardo DaVinci once said.
It's very much true in writing.
Schools make writing way too complicated...
They also make it seem like writing a book is super difficult...
They focus on books like Les Misérables and other literary classics. (Duh, those are actually difficult to write.)
But there are only three things you need to know about writing... three elements I boiled down to geometrical forms...
These are the 3 frameworks you need:
The 8-Level Pyramid Framework
The DEPN Framework
The DEPN framework is the most important foundation to writing.
There are 4 goals you can work with when writing. In other words, when you write, there are only 4 things you can do.
D____________
E____________
P____________
N____________
Once you know what these 4 goals are, it's incredibly easy to write anything effectively. But that's not all you need...
The 8-Level Pyramid Framework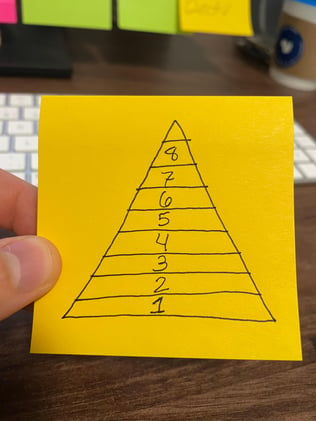 Writing has 8 different levels.
If you understand these 8 levels, you'll never worry about writing again.
You have all the content inside of you already...
So all you need to do is spread it among the different levels of the pyramid.
By thinking through this structure, your writing will be clear, organized, and mostly error-free. You won't have to worry about an editor changing your style and tone...
All they'll need to do is look for any typo or grammatical mistake.
The writing process will be completely stress-free for you.
All thanks to the 8 levels of writing:
1. ____________
2. ____________
3. ____________
4. ____________
5. ____________
6. ____________
7. ____________
8. ____________
The Brick Wall Framework
The pyramid has a macro and micro level.
The macro-level is the content and the micro-level is the style.
You need great content to make the book compelling, but you also need a great style.
A great style isn't hard to achieve if you understand the bricks that go into sentences.
These bricks allow you to make your sentences so good that people want to quote you.
W____________
W____________
W____________
W____________
W____________
W____________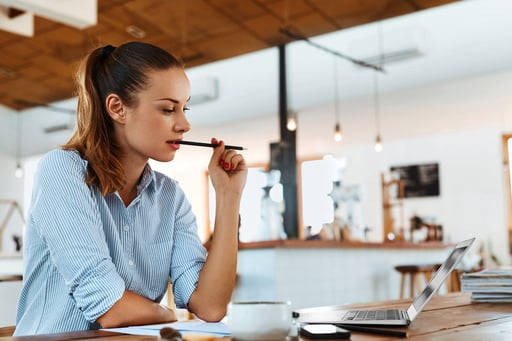 By now, you may be wondering, "how can I learn this stuff and get started writing my book? How do I get started?"
I get it.
After all, if writing is that simple, who wouldn't want to write a book?
We all know that a book is a fast lane to authority, credibility, and prosperity…
And the only things keeping most people from writing their book is time, knowledge, and certainty…
But these frameworks:
Slashes your writing time in half
Give you all the knowledge you need
And

virtually

guarantee your writing success
Now, here's the thing…
I used to teach these frameworks only to private clients who paid me thousands of dollars.
I believe that if you're good at something, you should always get paid for it. I also believe that if you build something, you need to charge what it's worth.
I'm sure you agree with me on this...
... but then I realized that I could help more people by making these frameworks more affordable.
And it's not just about the money… You may think you have a book in you, but you don't have the certainty you can actually do it…
So you wouldn't even be ready to become a private client.
What Did I Decide to Do About This?
I was recently asked by an Australian publisher to present a masterclass for a group of people co-authoring a book…
I was asked to present the writing foundations so the authors can produce the best writing possible…
These were all first-time authors. Many of them struggled immensely with English in high school.
So I prepared a 90-minute masterclass that goes over the 3 forms of writing and delivered it live to them.
The attendees all loved it. They learned concepts and strategies they had never heard about and they had all their questions answered.
It fired them up and got them started writing…
Some of the comments included:
"This has been amazing… it's also made it feel very real." — Laura
"This is gold for your social media content, too." —Nikki
"It was such a great course, so much useful information. I'll definitely have to watch it through again." —Bon
Your Opportunity to Learn:
Now, the masterclass originally cost $1,500, but I know this can be a pretty hefty investment for some people. After all, the book idea may still be vague in your mind.
So I want to make this a no-brainer for you today.
Only on this page today, you can get this masterclass for just $197. That's only a tenth of the original price, and it comes with a bunch of additional bonuses you'll love.
That's right — you can get the masterclass for $197 only.
Here's What it Includes:
The Mindset and Mental Models You Need to Become an Author
The Author's Mindset

The Doctor Model

The Map and Territory Model
Developing Your Idea
Making your unique angle clear through context

Making your relevance clear through cause and effect

Instilling purpose and inspiration in your writing
Paragraph content

Paragraph Transition

Paragraph length
Writing Golden Sentences
Strength and power in sentences

Directional certainty and change

Simplicity as the ultimate sophistication
A Healthy, Effective Process
Thinking and planning

Drafting and revising

Editing and proofreading
Your Bonuses for Getting the Masterclass Today:
✅ The audio file of the masterclass so you can listen and relisten to the content wherever you are.
I know you might be busy with your job or your business, so I want to make sure you can consume the content wherever you are.
✅ The study slides from the masterclass so you can review the concepts and keep the resource around you as you write.
I want to make sure you make the best out of the information contained in the masterclass, so you are going to get the slides in PDF format. This includes some of the same content my clients pay thousands of dollars for.
✅ A FREE copy of my new book Write a Book That Matters: The 5 Universal Laws to Write a Book That Builds Your Business, Brand and Prosperity
I want to give you all the clarity you need to write your book. My new book walks you through 5 laws that will give you extreme clarity on your topic and your content. This book retails for $7.99 (electronic) or $14.95 (paperback)
✅ A FREE copy of my writing "best practices" sheet, which goes over everything you need to keep in mind as you write your book.
This is a sheet I only give my private clients, so you would normally have to pay thousands of dollars to get access to it.
Now that this all seems so real, you may be wondering, "well, why do this now? Why learn this stuff right away? I have all the time in the world."
Well, if you've read up until this point, you certainly want to write a book. And you've probably thought about it for a very long time…
Maybe 1 year…
Maybe 3 years…
Maybe 5 years…
Maybe 10 to 20 years…
The reason you haven't done it yet is that you've never had the proper guidance you need. But now you do, so you have no excuse.
And at this price, it's fair to say you'll never get as good of an opportunity to learn what you need.
So why learn now? Well, aside from the fact that this offer could disappear at any time, you don't know when you might disappear.
Do you want to risk going without having achieved this goal?
I've never been in a truly life-threatening situation, so I haven't had one of these "reborn" experiences…
But I've always been aware of my own mortality...
Which is why I became a published author at 21. I just couldn't bear the thought of going without having published the story I had in me.
You are at a crossroads. You can choose to close this page and miss out on the opportunity of a lifetime...
Or you can give this masterclass a try and see what comes out of it.
You see, this masterclass isn't just useful to write books. It's useful to write anything… and God knows we have to write a lot in our business and professional lives.
So the worst-case scenario is…
After watching the masterclass, you've learned a few things about writing, which you'll carry for the rest of your life.
Plus, you'll have lifetime access to this material, so you can decide to use it as soon or as late as you want.
There is nothing for you to lose, except the belief that you can't write.
My Bulletproof Guarantee:
If you're worried that the material may not be worth the small investment of $197, let me throw in my "Bulletproof Guarantee." I want to make this offer an absolute no-brainer for you.
If you're not satisfied with what you learn in this masterclass, I will give you every penny asked. No question asked.
All you need to do is email info@triviumwriting.com. We will send you a full refund for your purchase if you're not 100% happy with what you got.