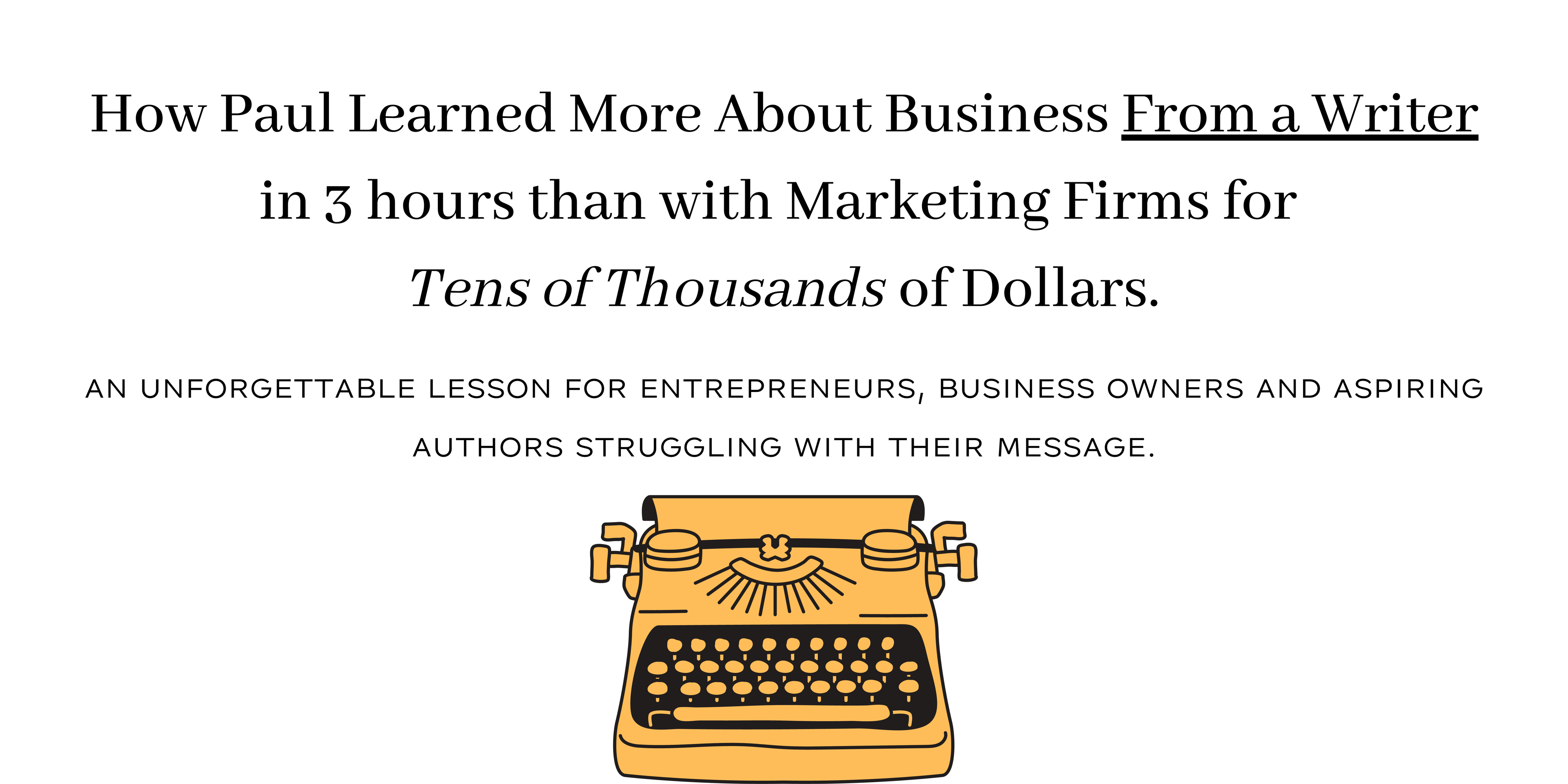 It was an accident.
I didn't actually mean to solve the problem that frustrated Paul for 1.5 years and cost tens of thousands of dollars.
But once I did, it felt really good.
You might know the feeling—serendipidity, "making fortunate discoveries while searching for other things."
This is what entrepreneurs and business owners do.
We'll get to that later, though. For now, I need you to know that…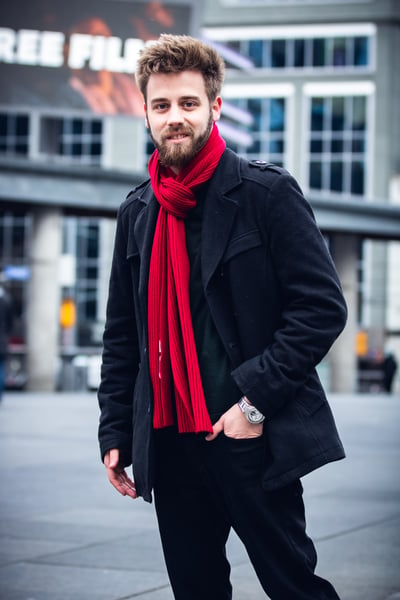 There's No Need to Despair if You Struggle to Articulate Your Message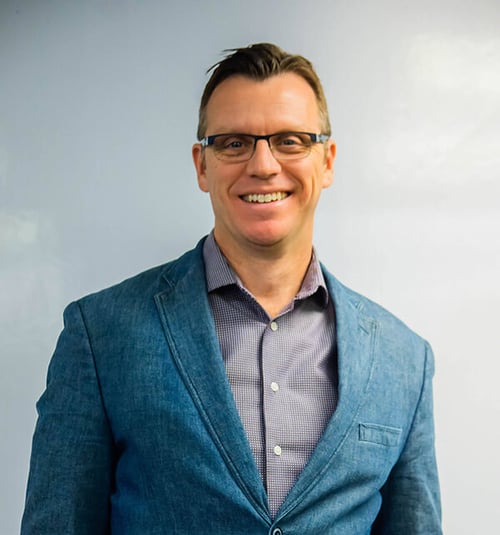 Paul's problem was straightforward.
He struggled to communicate what his company does, his vision, and the unity between his services.
Paul is the CEO of a company based in Oregon, USA, that does reality capture for large construction sites. He leads a team of 8 and offers consulting and software solutions.
Paul is a master at his craft and an industry leader. He's making leaps and bounds in his field.
He's even a LinkedIn instructor.
However, it's hard to stand out in such a saturated market, and Paul has a complex business. It wasn't obvious how to create a compelling narrative and a brand that encompasses all services. Because of this, Paul had difficulties:
Selling his company's services to new clients

Explaining what his company does to the world

Scaling his offering with the necessary confidence
And because Paul doesn't have a marketing department yet, he's had to rely on marketing firms, which didn't give him what he needed.
They gave generic slogans.
They diluted the company's vision.
And they didn't actually understand the relevance of Paul's expertise.
Why Most Marketers and Marketing Firms Fail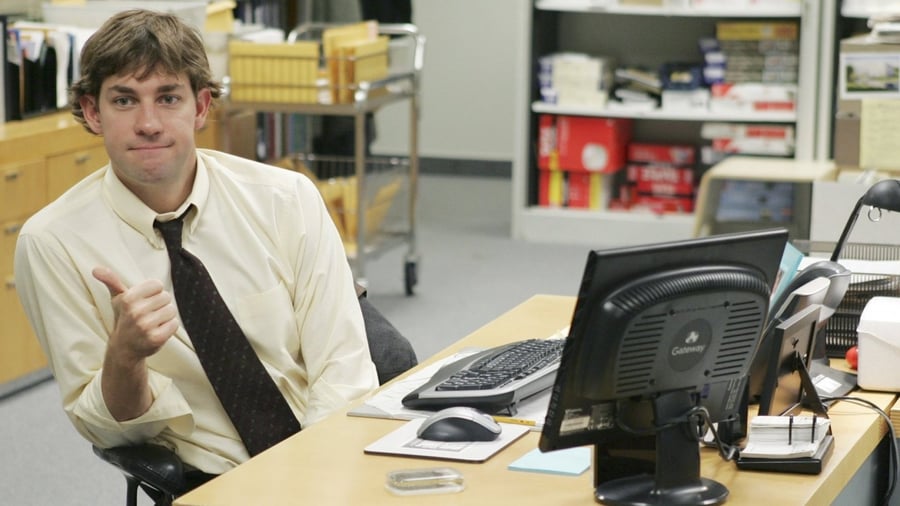 It's pretty simple.
Marketers and marketing firms don't understand (or don't care) about the true fundamentals of communication.
Marketing was invented in the late 18th industry, around the time of the industrial revolution. Today, with the Internet, it's grown into a full-blown industry…
The way you sell yourself, your business, and/or your products and services doesn't come from marketing gimmicks…
It comes from foundational ideas in the fields of psychology, literature, and philosophy. After all, Jesus, the Buddha, and the prophet Muhammad were history's best marketers…
They didn't know marketing, but they did know the true fundamentals that underlie any good marketing needs.
The problem today is way too many people got into marketing for the money only, and they try to help people who didn't get in for the money only.
The truth? It doesn't work.
That's why most marketers and marketing firms fail.
Why Me Helping Paul Was an Accident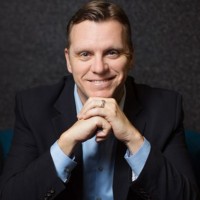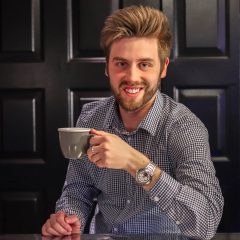 Why didn't I mean to solve Paul's problem from the get-go?
Well, the story starts with a British-born, Canadian-raised, American author named Malcolm Gladwell.
Ever heard of him?
He's the author of bestselling books like Outliers and The Tipping Point.
You must be wondering why I'm bringing him up...

That's because Malcolm Gladwell is the author Paul and I bonded over during our first conversation.
One day, we connected on LinkedIn for the first time, and I asked Paul about himself outside of his job.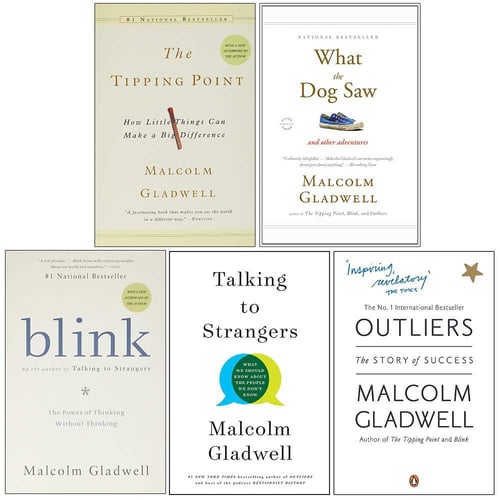 Here's How the Conversation Went: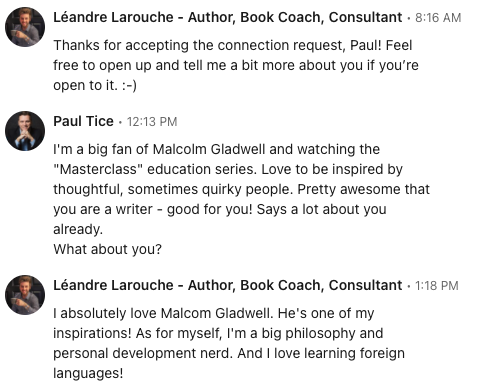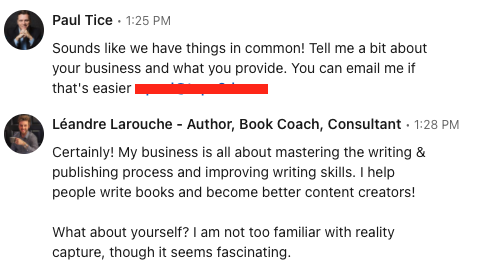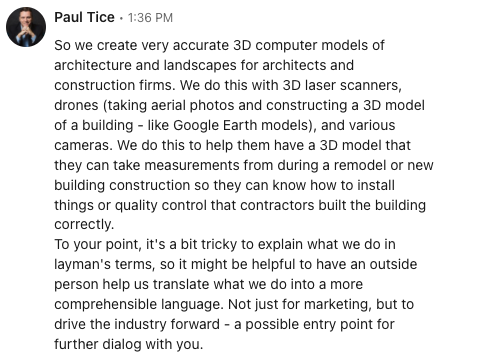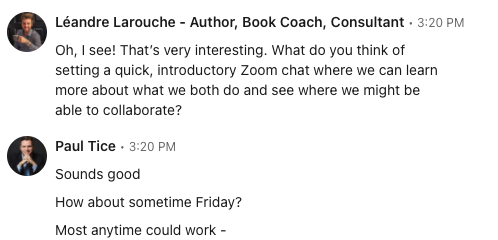 So, that Friday, we jumped on a call. The rest is history.
The Offer That Changed It All
When I hopped on the call with Paul, I didn't have an agenda. As you've seen from the messages, I'm an author, book coach, and consultant
I graduated from Concordia University in Montreal, Canada, with a degree in English and professional writing. I went on to be a Fulbright scholar in the United States. Because of my experience publishing my first book at 21 and writing for clients in a variety of industries, I started Trivium Writing in 2020.
As Paul and I chatted, it became clear that Paul's team would benefit from the frameworks I use and teach clients with book writing and content writing.
So I told Paul, "It's not something I've done before… but why don't I prepare an interactive workshop for your team so we can figure out your message and get everyone on the same page?"
"I'll use the concepts and frameworks I teach, apply them to your company and challenge you guys to think
"That sounds great," Paul said. "Send me a proposal?"
"Sure thing," I replied. "Let me send you a workshop outline and a quote."
The next week, I sent Paul a proposal with a table of contents. We'll get more specific elements and why they matter a bit later.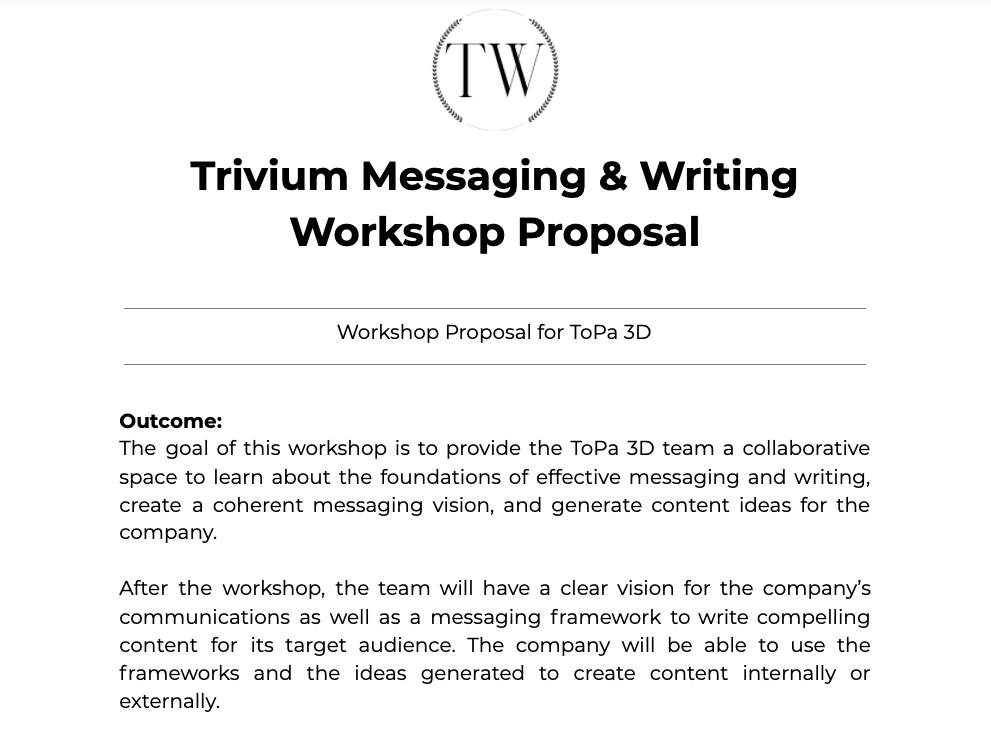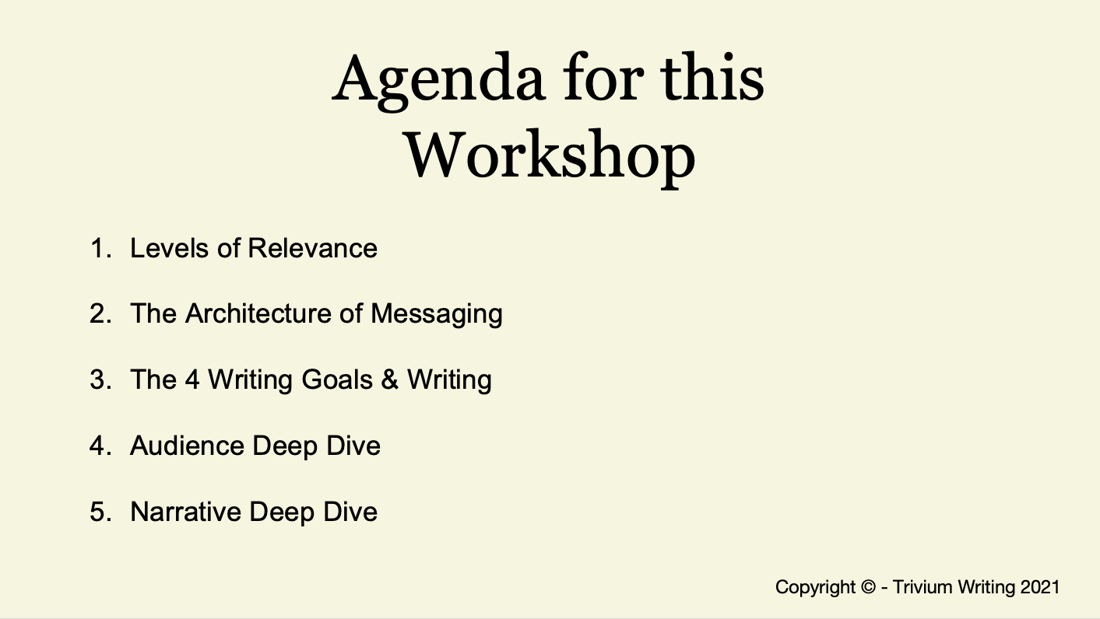 Now, let's talk about what happened during and after the workshop.
We Got to the Bottom of It
On the day of the workshop, I sat down with Paul's team for 3 hours on Zoom ready to challenge them. Together, we went through everything. We started from the beginning.
I asked them questions…
I investigated their story…
I listened to their thoughts…
I reflected back what they were telling me…
I told them what made sense... What didn't make sense…
I suggested several potential communication angles…
I introduced new ways of thinking about what they do.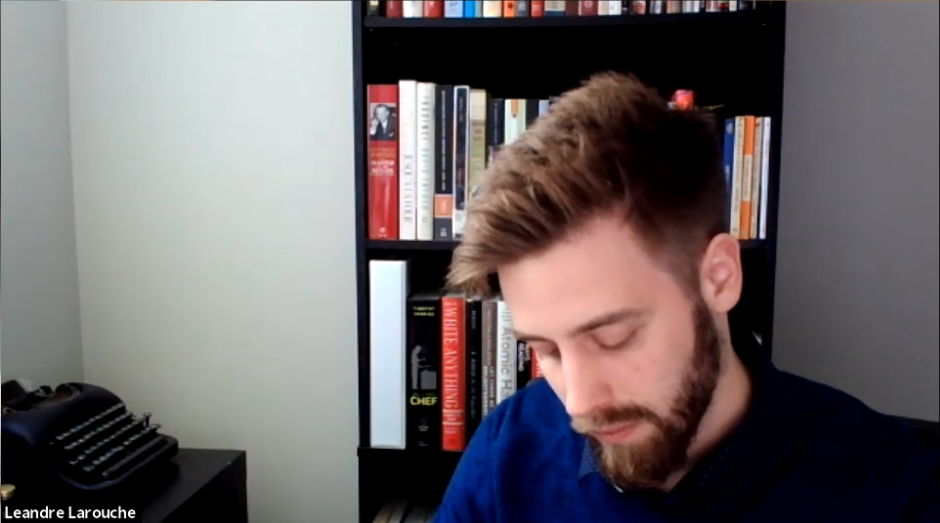 Me taking some notes before starting the workshop...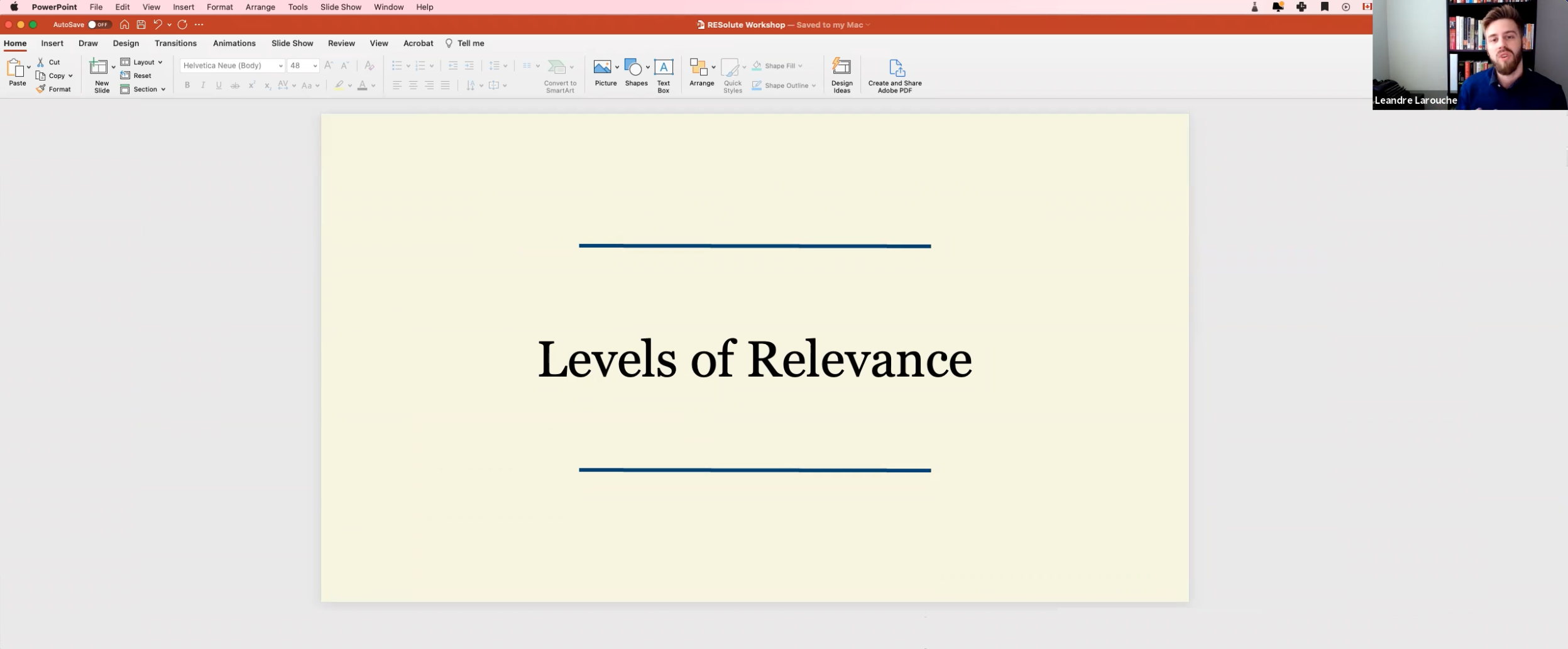 I showed Paul and his team how to think multi-dimensionally about their business, their market, and their services. I contextualized what they do in the world.
In other words, I showed them the big picture.
Because, frankly, the big picture is almost always what's missing from a message. Entrepreneurs and business owners are too close to their business to see their real impact.
In fact, it's also true for me…
I didn't realize the impact I had had on Paul and his team right away. Paul gave great feedback on the workshop and even asked me to write some copy for his company.
Still, the true impact hadn't hit me yet…
… until Paul reached out to do the workshop again with a new team. He was launching a new software company and wanted to nail the messaging.
That's when I figured I'd done something powerful.
I did the workshop once again for Paul's new team. Then, about a month later, I reached out to Paul to ask him for feedback on the workshop and the value I'd provided.
What's The 1000-Year-Old Game Changer?
What is that funny idea?
I'd like you to hear it from Paul. I recorded my conversation with him—you can watch it below.
In a nutshell, the Workshop Gave Paul:
the validation that what he does matters at different levels


a framework to communicate with clients and prospects


a unified vision for his company and products and services


cohesion and excitement from his team members


new marketing and sales ideas and angles
Needless to Say, It Was Enlightening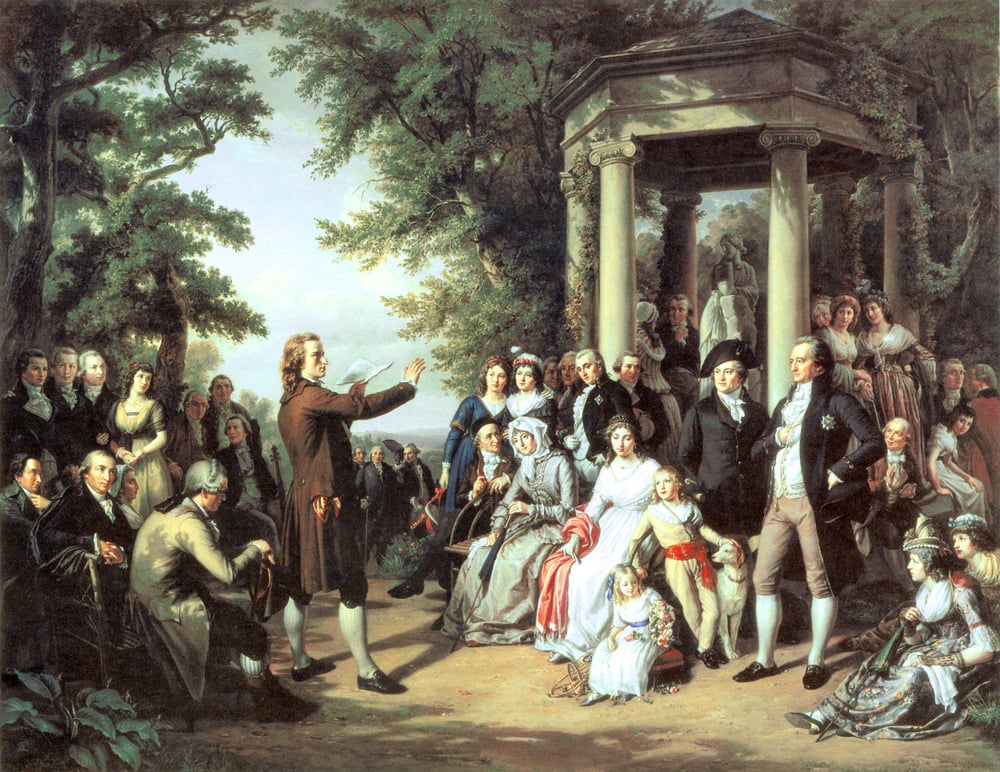 The thing that struck Paul the most was the idea of a "thousand-year-old conversation" I brought.
It's the idea that your audience is a community that's been having a conversation for a very long time and that your job is to enter this conversation.
By approaching your marketing this way, you feel a lot more genuine and helpful. It allows you to think through what makes you unique in your market and truly stands out.
It gives you a real-world way of looking at your business… not a cheap, gimmicky marketing framework. So, everything starting make sense for Paul and his team.
The team proceeded to revamp their brand and marketing assets, and they also began engaging with their prospects and clients differently. It made the world of a difference.
Paul said, "We got more value in three hours with you than working with marketing firms for months and paying tens of thousands of dollars. And you're charging nowhere near that."
"It's funny," Paul continued, "how we hired a writer and ended up solving our marketing problems. Never thought of that, but it actually makes sense."
It does make sense — because good marketing is good writing. Good writing is good storytelling. And good storytelling is good messaging.
This is why the architecture of your message is the first thing you need to do before you go all-in with the marketing.
How You Can Benefit From the Offer I've Made to Paul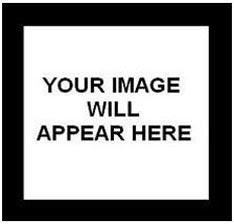 Now, you may be thinking, "okay, great for you, Paul, but what about me?" Don't despair just yet, because I'm getting there.
Again, I created this workshop from the concepts I've already taught to dozens of people for book and content writing. They're simply presented differently here…
… and they're powerful beyond belief.
So I want to make this workshop available to you. The same workshop. The same format. The same price. The same everything.
There's no catch, no trick, no gimmick.
I believe no one should be left struggling with messaging. No one should waste their time and money on marketing firms before they have a strong grasp of their message.
It starts with you.
It starts with the story.
And, block by block, you build the messaging that will make you rich. That's what I want to help you.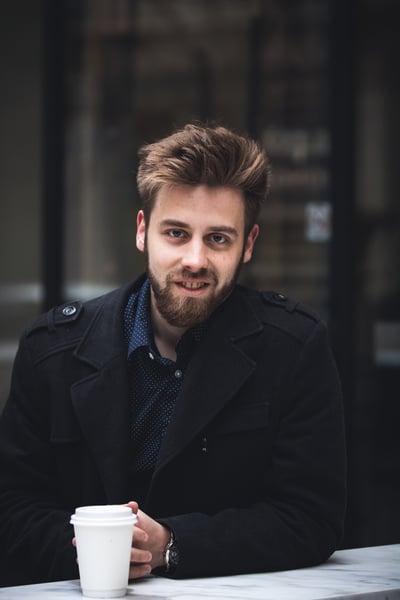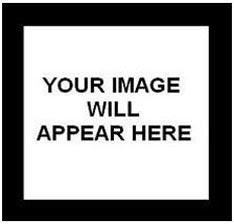 This is my invitation to you.
You are invited to meet with me individually for 3 hours via Zoom to go through The Architecture of Messaging. We will cover everything I've covered with Paul and his team (and even more!)
If you have a team, your whole team can come. It won't change the price—the more, the merrier. Learning the concepts I teach is empowering personally and professionally.
If you live in the Greater Toronto Area, we can meet in person at your office, my office, a coffee shop, or anywhere we both agree to.
If you live anywhere else in the world, you can still have me in person. You'll just need to ask me about my schedule and cover my travel costs (to be discussed together).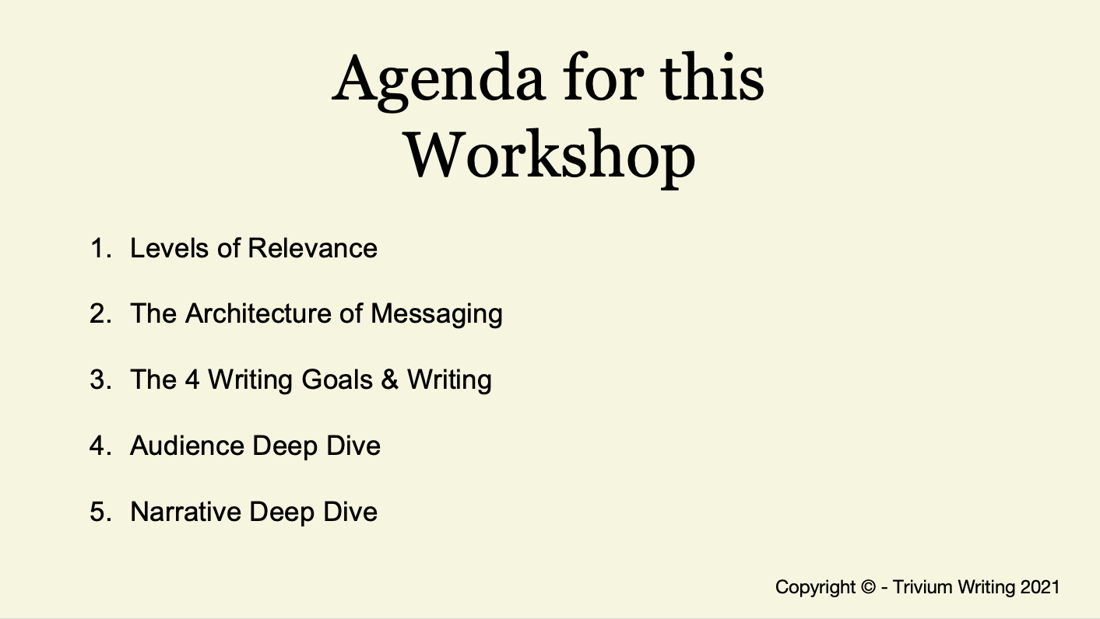 The workshop on Zoom can last up to 4 hours. It typically takes about 3 hours, but it can last a bit longer depending on your business and message.
If you have me in person, I'll likely spend more than 3-4 hours since I'll be here in person, anyway. You can take me out for lunch or coffee, too. I never say no to that. :-)
What You'll Get From the Workshop
Remember this? I promised I would elaborate these elements. That's where we are. Let's dive into it.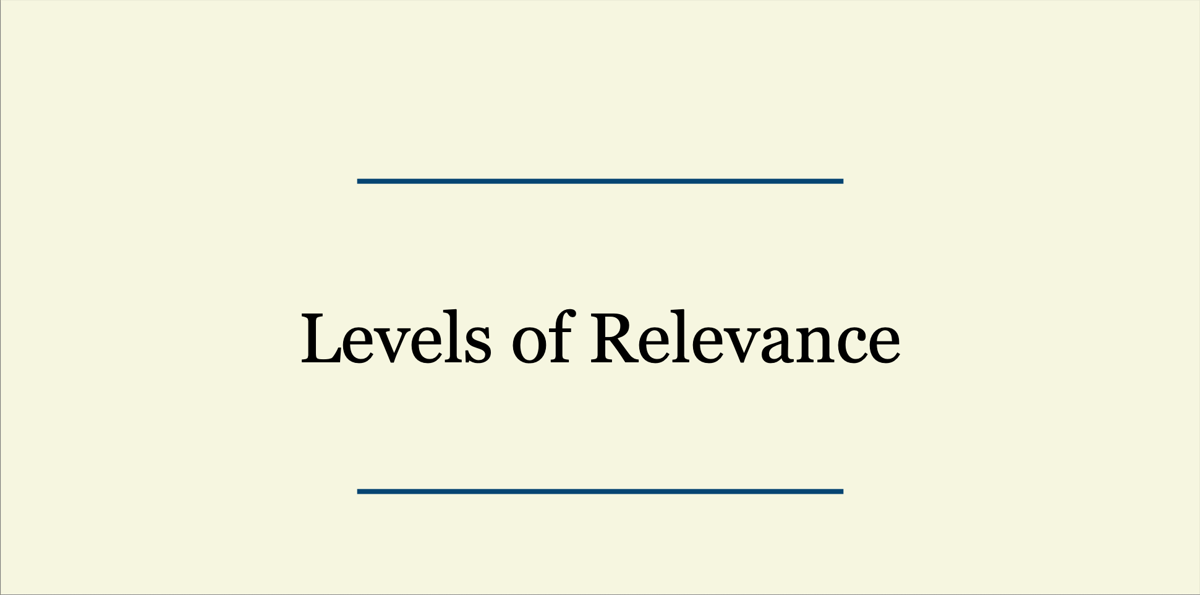 You've never seen anything like this before.
This is a proprietary concept I've created while pondering philosophy, and politics, and it led me to my biggest business/marketing breakthrough. That's what caused Paul and other of my clients to have their biggest breakthrough as well.
You know how hard it is to stand out in a saturated market. That's because people use the same old ways of looking at markets.
First, they looked at demographics (who people are). Then, they looked at psychographics (what problem people have).
But in most markets, people have seen it all and they're hyper-sceptical. So you need to stand out more. My framework is "philographic". It focuses on what people stand for. That's a lot more powerful.
In this part of the workshop, we'll uncover what you and your audience stand for, and we'll position your business as something more than just a business.
We'll position your business as a thought leader.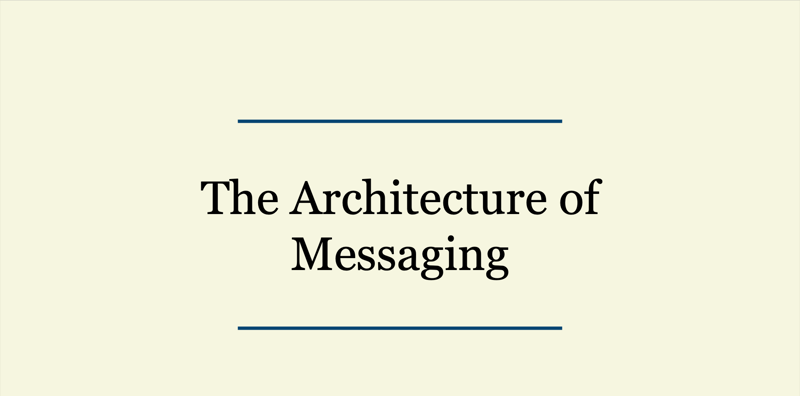 This is marketing simplified. It's all you really need to know about marketing.
We'll find out the 100-year-old-conversation you're entering. We'll build your message block by block. You're going to have such a good time, it won't even feel like work.
Paul and his team absolutely loved this part. When Paul brought me back, everyone was super excited because of this part. It wasn't easy, but we made it fun.
Through the process, we laughed a lot.
Forget About Shiny-Object Frameworks...
Every marketer or marketing firm wants to give you a "marketing framework" that "guarantees" success. You need none of that.
All you need is to understand the 4 writing goals and how they apply to your business. Whenever you communicate, there are only for things you can be doing.
I'm going to teach you what these 4 goals are, apply them to your business message, and give you the 20/80 of content writing and copywriting.
With this framework, you (and your team, if you have want) will be able to write compelling content. And if you decide to hire an external writer, they'll have a proven framework and and your business intelligence.
This part of the workshop is invaluable. Ask Paul, he'll tell you all about it.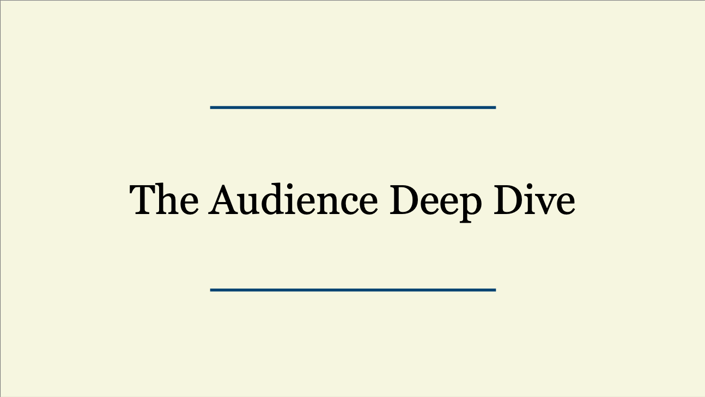 This one part is going to blow your mind.
I'm going to ask you some of the most challenging questions no one's ever asked you, and I'll help you answer them based on the business intelligence you already have (you don't need to have any, though).
We're going to paint a FBI-like portrait of your ideal audience with the things that actually matter. We're going to list out the thing about your business that make you perfect for your audience.
See, everyone is able to ask questions. But what matters is the right questions
Over my career as a professional writer and entrepreneur, I've learned to ask the right questions, frame them the right way, and interpret the answers correctly.
I've also invested over $45,000 of my own money in my business development to learn from the very best. (The funny thing, even the best will only get you so far without the foundations I teach.)
Of Course, the Most Important of All...
Last but not least, I'll teach you how to write a compelling story out of anything (even a bank statement, if you like).
Which is one of the most important things for your business.
As I teach you storytelling, I'm going to craft your business story to make your business a Hollywood blockbuster. You'll never have to worry about marketing again.
With your business story, you'll have a powerful one-liner, an incredibly origin story, an awe-provoking mission statement, and absolute clarity about what you do and stand for.
That's what you'll get in our 3-hour workshop.
Actually, that's not all. I have a couple of bonuses for you. But now I'm sure you're anxious and wonder…
What About the Investment?
Right now, the investment is just $1,900 US.
That's it. $1,900 one time. Nothing more.
Of course, there may be opportunities to work together more after that workshop if you so desire. But the workshop is $1,900.
With this workshop alone, you'll be light years ahead of your competition.
It's going to be the best $1,900 investment you'll ever make in your business…
… perhaps the best period.
FYI, the price doesn't change based on how many people you bring. That said, there's a limited number of spots only as my schedule is working with a variety of clients.
Wait — What About the Bonuses Mentioned Above?
BONUS 1: Hooks and Content Ideas
$97 Value
During the workshop, I'll get you my secret list of hooks you can use to catch your market's attention when communicating your message.
In addition to giving you the hooks, I'll also brainstorm ideas for you to use right after the workshop. You'll know exactly what to say to make people pay attention to your business.
BONUS 2: Customized Action Plan
($157 Value)
At the end of the workshop, we'll discuss your current business assets and how you're communicating with your audience (e.g, social media).
Together, we'll create an action plan that shows where to focus your efforts in the next months. You'll not only learn a great deal from the workshop, but you'll have actionable steps.
BONUS 3: 3 30-Minute Follow-Up Calls
($187.50 Value)
I want to make you have accountability to create your business assets and improve your strategy. After the workshop, I'll follow up with your 3 times.
The first follow up will occur 2 weeks after the workshop. The second one will occur a month and a half after the workshop. The last one will occur three months after the workshop.
BONUS 3: SlideDeck with my Personal Notes
($197 Value)
After the workshop, I'll be sending you the workshop slide deck with all my proprietary concepts and the notes I'll have taken.
The slide deck contains Trivium Writing's intellectual property and my notes will give you concrete ideas you can use for your business. You'll be able to use this as a reference.
BONUS 3: Classical Content Course
($297 Value)
This is my signature content writing course. It includes 8 hours of video content with exercises and resources. The course originally sold for $597 when given live, and the recorded version sells for $297. You'll get this for free.
Classical Content will give you additional tools and frameworks to create compelling online content and become a trusted authority in your field.
Classical Content's modules include:
Content Therapy — The last "target audience" masterclass you'll ever need.

Management, ideas, and Structure — The level of consistency and creativity you need to never run out of content ideas again.

Style & Substance — Copywriting skills for the non-copywriter.

Advanced Strategies and Beyond Social Media — The High-Level Strategy to Go Big Online and Get Noticed
That's $935.50 Worth of Bonuses, Did I Get That Right?
The math is right.
That's $935.50 worth of bonuses right here for you with The Architecture of Messaging workshop.
So You're Getting $2,835.50 Worth of Value for Only $1,900.
Yes. That's the deal.
But one last thing…
You Get a 100% Roman-Shield Guarantee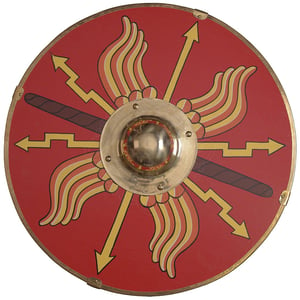 What does it mean?
It means your $1,900 investment is protected by this beautiful, solid Roman shield. I know you may sceptical of someone saying they'll give you clarity on your message…
I myself have been burned by marketers, so I get that. I've also been broke many times, and I know the pain of investing and then finding out the investment doesn't live up to its promise.
So, if you're not satisfied with the intelligence you get from the workshop, I'll give you back every penny you paid. No hard feelings. The only thing I'll ask is that you give me honest feedback on what didn't work for you.